Whether you have an established business online or you have just landed in this world, you can't do without a digital strategy that includes a web marketing plan, SEO, and advertising campaigns, otherwise your online presence would have been built in vain. However, all this requires an investment, and because it depends on many factors, you can't always get an exact figure of all the costs. Usually, the most worrying voice on the bill is advertising, because its costs are not fixed. Facebook advertising cost in the UK, for example, is a hot topic, as everyone would love to have a precise idea of how much is running ads on social media and if it is worth to do it, but the truth is that there is no definitive answer, and that's why you always get a laconic «it depends».
However, if we spot all the decisive factors and analyse them, we can surely have an almost precise figure, and that's what we are going to do in this post.
Facebook advertising cost changes by country
According to the Naningans' European Facebook Advertising Benchmark Report, the UK has the highest mobile ad spend in Europe, and it is one of the countries where new ad formats are used as soon as they are available. This is due to the high competition of our advertising market, which forces marketers to be creative to get potential buyers among their audiences. Lookalike audiences are also a popular tool.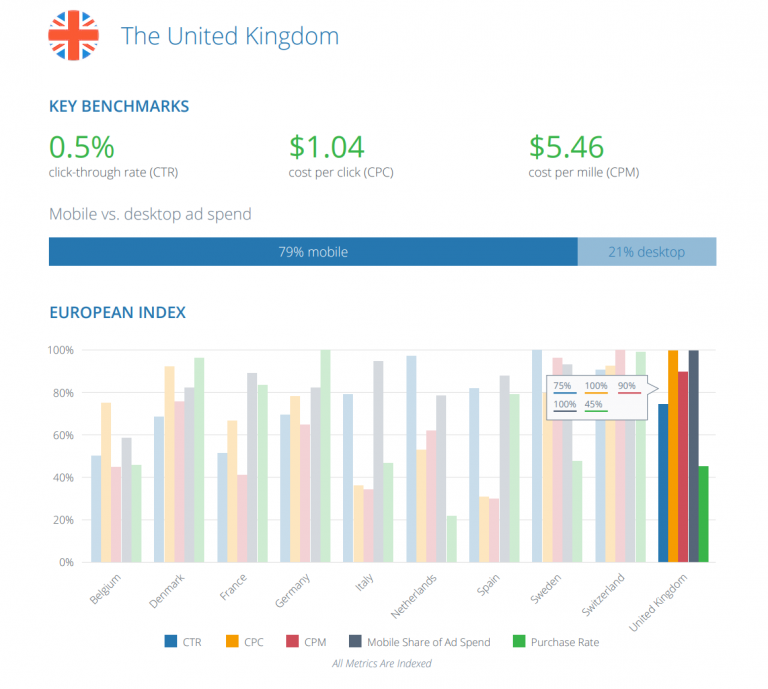 This situation puts the UK a little bit above the average in terms of costs, with the CPC at $1.04 and the CPM at $5.46. So, compared to other countries CPM is quite high, but CTR is just in the average.
CTR influences the CPC cost
How does Facebook charge advertisers? We tend to think the most natural way to charge ads is PPC. However, that's not what Facebook does, preferring a CPM basis. This method rewards the ads with a high CTR: the better this metric, the lower the CPC.
So, if we want to get an idea of the CPC on Facebook, we need to look at the CTR. There is this interesting benchmark from WordStream that shows how the rates change across the business sectors: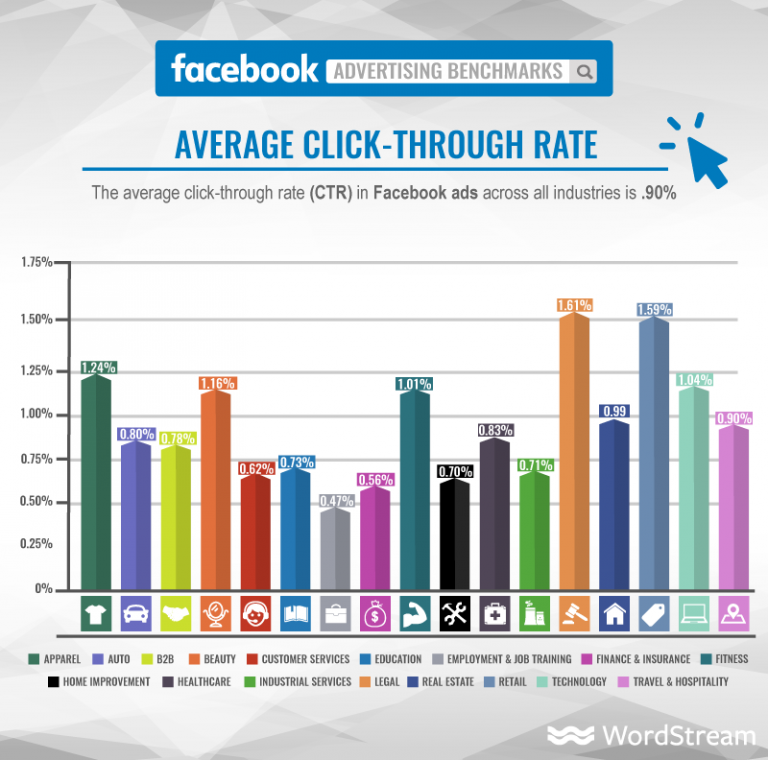 There is also another fact to consider: if the CTR is too low, probably your ad relevance score will be, too.
The ad relevance score is a number from 1 to 10 that tells you if people are responding well or not to your ads, and it is given automatically by Facebook when your ad gets 500 impressions according to a number of factors. Naturally, the higher the relevance score, the better for you. On the other hand, if the relevance score is too low, means that users don't like your ad, and Facebook only wants ads that people enjoy, as bad ads can make them leave the website, so the platform will punish marketers who run ads with low relevance.
The score is determined by feedbacks, CTR, and interactions both positive (shares, likes, comments) and negative (abuse reports, hiding).
The importance of target audience
The people who you want to view your ads also can increase or decrease the costs of your campaigns. Some demographic groups, in fact, are more remunerative than others, however, the more marketers want to reach those people, the more expensive advertising will be. For example, high-income people are usually more expensive than workers or average income professionals.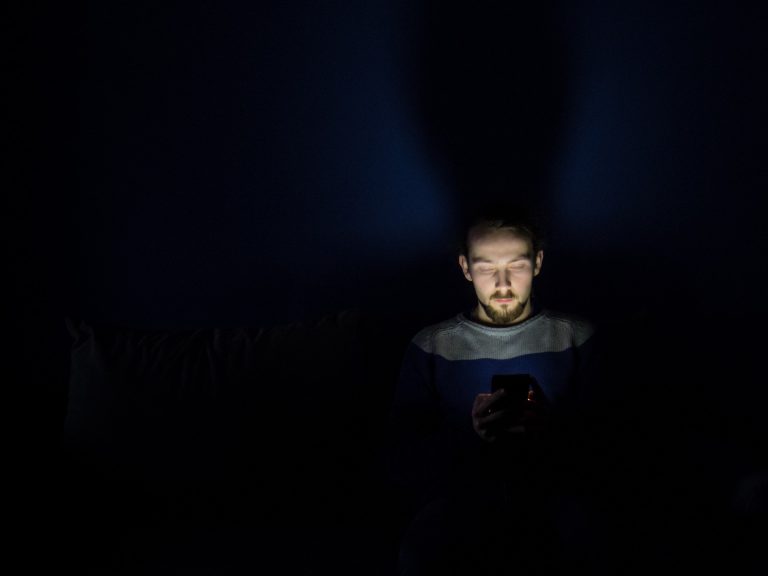 There are no available up-to-date statistics about Facebook advertising cost in the UK based on demographics, but it is clear that if you want to keep the costs low, you have to define a buyer persona for the product or service you are advertising, and the more things you know, the more effective your targeting will be. Things like education level, job, annual income, home ownership, relationship status, family, interests, hobbies, and life goals might seem unnecessary for your purposes, but the truth is that everything matters (unless it really doesn't apply to your business).
How to determine the correct budget for a Facebook campaign
When we meet a potential client for the first time and we ask them what budget they would like to allocate for Facebook marketing activity, the reply we get wuite often is: «I don't know, I didn't think about a figure. What would you recommend?»
The obvious answer is : «it depends.»
The less obvious, but more exciting answer is that there is a way to estimate an ideal budget according to your goals.
The first thing to do, in fact, is deciding what goal you want to achieve with your campaign.
Don't just think about your bottom-line business goal, think about your marketing goal, e.g.: subscriptions, add-to-cart events, video views, and so on.
When you come up with a goal, let's say 100 downloads of your e-book, and you estimate a conversion rate of 30%, you know that you need 333 clicks to achieve 100 downloads.
Analogously, you can calculate how many impressions you need in order to get 333 clicks. Again, you can estimate that with a 1% CTR you will need 33,300 impressions.
If the average CPM in the UK is £ 4.13, you can estimate that you will have to invest about £ 137.
Obviously, there are a lot of factors to take into account, and if you have any doubt, the best course is to launch a testing campaign to have data on which you can base your decision.
…to introduce ourselves! We are Wiredmark, a digital agency based in the UK. Our motto is "Bridge the Gap" – between our clients and their customers, their ideas and their goals. From conception to launch, we can turn your idea into reality and help you to market and evolve it over time.
"The gap changes every day, but we always find a way to bridge it."
Average figures for Facebook marketing consultants
If you need the help of a social media marketing consultant, you have to consider their fees as part of the advertising campaign cost. Some agencies charge different fees for setup and recurring operations, such as performance monitoring and ads improvements, and some other agencies charge an all-inclusive monthly fee. Every project is different, but what we found at Wiredmark is that our prices are in the average range, so here are, more or less, our all-inclusive monthly fares:
For small projects, such as short awareness campaigns or simple lead generation funnels, we charge up to £2,500 per month;
An average campaign that includes target audience testing, multiple ad variations, retargeting, and performance monitoring, can cost between £1,500 and £3,000 per month;
Complex campaigns with an elaborate funnel, retargeting from multiple sources, and lookalike audience campaigns take way longer to set up and develop. £1,500 or £2,000 per month are unrealistic figures. We would say, unless exceptions have to be made, £3,000 per month is our starting point.
So, next time you ask a question about Facebook advertising cost in the UK and you get the answer «it depends», at least you know what it depends on!
However, if you want to get the help of a team of Facebook advertising professionals, you can contact us. We will be happy to consider your project.