A website, even a good one, is worthless if nobody can find it, and the most popular way to find your website is still on search engines. However, as you may know, search engines try to show the most relevant results to their users, so in order to attract your target audience on your website, you have to convince search engines that your website is relevant when users search certain words (the keywords). How do you do that? Well, that is the SEO (Search Engine Optimisation).
If you work on the internet, you already know all the stuff I just wrote, however, while the theory sounds straightforward, the nuts and bolts of SEO can be a little bit more difficult, especially because it involves work to be done both on-page and off-page. In this post, we will focus on the on-page ranking factors, describing all of them and giving a few rules of thumb to follow in order to reach the top of the SERP.
Let's see the SEO on-page ranking factors in detail.
Relevance
A page is relevant when its content responds to the search intent of a user in the best way possible. I'll give you an example: if I search on Google "how to make bread", the first two results I get are:

Why do I get BBC Food first rather than Delicious Magazine?
They are both very popular in the UK, but for some reason, Google decided BBC Food is more relevant than Delicious Magazine, so there must be some differences. Let's find them out.
First of all, on BBC Food there is a video of the recipe: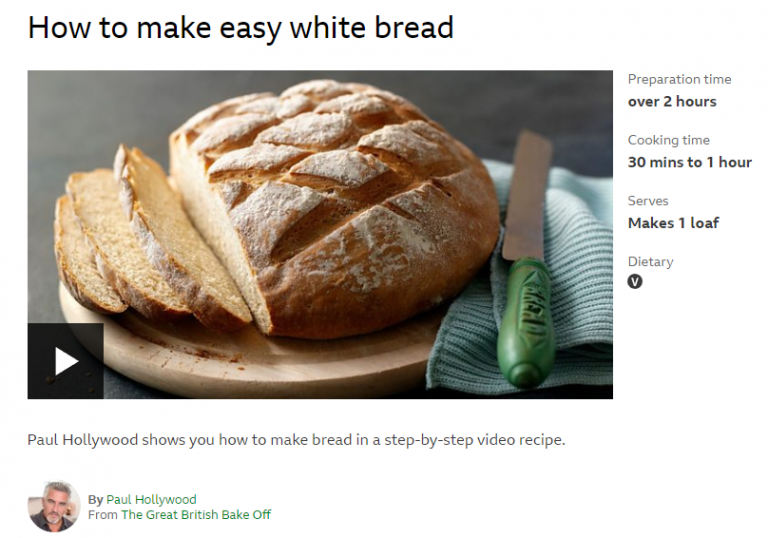 This means you can watch the video and see how to execute the recipe step by step, which is something very valuable for users, cooking beginners in particular. The additional information about time and serving is also important.
Also, on BBC Food there is a list of all the ingredients:

Not just that, but if you look carefully, each ingredient is an anchor for a link, so users can get more information on them without leaving the website.
If you look at Delicious Magazine, there is nothing but the procedure to follow to make bread:
Both contents have a good readability level, both of them are very detailed, but BBC Food includes some additional useful information in the page, so no doubt it is more valuable than Delicious Magazine.
Authority
This is pretty linear: the more a website writes content about a certain topic, the more authority it gets about that topic. For example, if you are looking for vegan recipes, a website about vegan lifestyle with fifty recipes is likely to rank better than a website about cooking with only ten vegan recipes.
If you want to build authority about a certain topic, you have to write good content about that topic, better if you do it on a regular basis, so you can always publish up-to-date information.
Quality
Back in 2011, Google launched Panda, an algorithm designed to measure the quality of a page based on human criteria.
In order to make it work, Google asked people to evaluate the quality of various kinds of websites by completing a questionnaire with their answers. Those answers, became Panda. Now Panda is not a standalone algorithm anymore, but its criteria are still relevant, so it is good to see what were its questions:
Would you trust the information presented in this article?
Is this article written by an expert or enthusiast who knows the topic well, or is it more shallow in nature?
Does the site have duplicate, overlapping, or redundant articles on the same or similar topics with slightly different keyword variations?
Does the site have duplicate, overlapping, or redundant articles on the same or similar topics with slightly different keyword variations?
Does the site have duplicate, overlapping, or redundant articles on the same or similar topics with slightly different keyword variations?
Does the site have duplicate, overlapping, or redundant articles on the same or similar topics with slightly different keyword variations?
Does the article provide original content or information, original reporting, original research, or original analysis?
Does the page provide substantial value when compared to other pages in search results?
How much quality control is done on content?
Does the article describe both sides of a story?
Is the site a recognized authority on its topic?
Is the content mass-produced by or outsourced to a large number of creators, or spread across a large network of sites, so that individual pages or sites don't get as much attention or care?
Was the article edited well, or does it appear sloppy or hastily produced?
For a health related query, would you trust information from this site?
Would you recognize this site as an authoritative source when mentioned by name?
Does this article provide a complete or comprehensive description of the topic?
Does this article contain insightful analysis or interesting information that is beyond obvious?
Is this the sort of page you'd want to bookmark, share with a friend, or recommend?
Does this article have an excessive amount of ads that distract from or interfere with the main content?
Would you expect to see this article in a printed magazine, encyclopedia or book?
Are the articles short, unsubstantial, or otherwise lacking in helpful specifics?
Are the pages produced with great care and attention to detail vs. less attention to detail?
Would users complain when they see pages from this site?
Can you comply with all of them?
Authenticity
The content of your pages should be original and not seen anywhere else. If 40% or more of your content is present on other pages, it won't be indexed by Google.
This situation is typical for e-commerce websites in particular, where the product pages are pretty much all the same, and obviously if you sell thousands of products you can't write unique content for all of them. What you can do is choosing a few products you want to focus on and write unique content for them.
Title
If you write a blog post, you have to know there is a difference between the title of the post and the title of the page: the former is an H1 headline, the latter is the title you see in the tab and in the snippet in the SERP.
It is critical that the title contains the main keyword, better if it is on the left.
Headings
H1, H2, H3, and so on to H6 are not only HTML tags, but also important parts of the content: the titles and subtitles of the various sections. They make the content organised and clean, but be careful with keyword stuffing: if you do use headings, make sure you use the keyword only once.
Keywords
It is the query the user searches, it is the phrase you want to be found for, it is how search engines determine which contents they should display in the SERP.
Keywords is also an element of debate among SEO professionals: some of them think they are critical for the indexability of a content, while others think search engines value other things rather than the presence of specific keywords.
The thing is keywords are a double-edged sword, because if you put too many of them, you risk a penalisation for keyword stuffing, but don't put enough keywords, your content will not be considered relevant for that query.
If you are careful enough to put the keyword only in the key-points of your content you can only benefit from them, though. In particular, make sure the keyword is:
In the first paragraph;
More or less in the middle;
At the end;
In the title;
In one of the headings, possibly H1.
Synonyms
Google and the other main search engines have sophisticate algorithms that allow them to identify synonyms and the meaning of certain idioms.
Actually, if you search something on Google, at the end of the page you will see some suggestions containing some synonyms for the query you just searched.
If you can do it naturally, you should try to include some synonyms in your content.
Bold text
Some people say it is important that you put the keyword in evidence by using bold formatting. However, this is just a false myth, and it could even become a disadvantage. Bold text is useful to highlight the main information in order to make them more visible for users who actually do not read the whole content, but only scan it searching the information they need. Search engines reward this practice, but only if it is genuinely done for the sake of readability.
Length
The million-dollar question: how many words should be a content long? Do you want the truth? 180 characters are enough.
Some say the shorter the better, others say the longer the more thorough, but the reality is that there is no precise number of words to write, because the goal of a page is responding well to the search intent of the user.
However, you can use your competitors as a comparison criterion: search the query on Google and check the websites in the first positions, just like we did for relevance: if your competitors wrote over 1000 words on a subject and you wrote barely 300 words, maybe you are doing something wrong.
Also, people who click on a website in the SERP are looking for an answer. Try to give that answer as early as possible in the text, in the highest position possible.
Images
Pictures will help you to get a better positioning. Avoid spaces in file names and prefer dashes, instead, and do not forget the alt text.
The alt text is an HTML attribute for images which consists in a text that appears when the image cannot be loaded, but it is also a way to insert the keyword one more time in the page.
Links
Pages which talk about similar topics should be related, both if they are internal and external. If you put links to pages with related keywords, you will get more authority on the content. At least two links for each content would be great.
URL
How to customise the URL of a page? I mean, what should it contain? In order to be SEO-friendly, it should also be readable by users, so avoid weird parameters and IDs, and use a rewrite rule to make it more human. A good URL consists in three characteristics:
It is short;
It is descriptive;
It contains the keyword.
Meta-description
A meta-description is not visually present on page, but only in the code. It is a short excerpt written for search engines, which display it in the snippet of the page in the SERP. The length of a meta-description is quite variable. It used to be a bit more than 150 characters, but last year it was over 320 characters, while now it is around 170 characters again. Just make sure it contains the keyword.
Time on page
How long do user stay on the page? Because the longer they stay, the better it is for your ranking. You can try to make your visitors spend more time on your pages with infographics, videos, pertinent modals, and so on.
Social signals
Search engines can intercept social signals. This does not mean the number of likes received is important, but the more a content is shared, the more valuable it is considered. Search engines aim to give priority to viral content. That's why you should allow your users to easily share your content on social media.
Conclusion
These are the SEO on-page ranking factors you should always keep into account, but are not the only ones: there is much to do also off-page, with factors like backlinks, server speed, and domain authority to be constantly monitored and improved, so this is not the goal, but it is just the start.