Before being digital professionals, here at Wiredmark we are tech entusiasts. We love our job, we love connecting with other people, and we love working with people and businesses from all around the European land (and further). Last month, for example, we worked with clients from the UK, Italy, Romania, Switzerland and Hong Kong. However, we like to undertake a different approach when we deal with local businesses, because what we found is that many of them prefer to work remotely with web agencies located in other cities of the UK, so we always try to highlight the benefits for them of working with a web agency in Birmingham.
Now that we have a corporate blog, here is a dedicated post.
A web design agency in Birmingham knows the city
We live in Birmingham, we work in Birmingham, and we know the city very well. Of course, you may wonder: «why does it matter?». Let me explain it with a real example.
We recently had a client here in Birmingham who asked us to make a new advertising campaign for his business. Obviously, we asked him the address of his business location, and when we found out he was based in Birmingham just like us we immediately understood we could have a competitive advantage in helping him.
This is because, as you can imagine, we had been dealing with a considerable amount of businesses located in the same area and we knew exactly what were the most effective ways to promote him in the city. Needless to say, the campaign was a success, and the business attracted more local customers than expected.
Sure, a local business can get good results from any web design agency located elsewhere, but in our case, it maximised its results because we were a web design agency in Birmingham.

We can meet – not to underestimate!
We are a web design agency in Birmingham with a customer-oriented approach, which we express through transparent communication, inclusive behaviour, and attention to details. Even though we are not for unnecessary, repetitive meetings that only end up in wasting people's time, whenever we have the chance we also love to meet our clients and talk about their projects without the complication of a phone call and, why not, with the pleasure of a coffee.
Furthermore, let's face it: if you can meet someone in person, you are more likely to understand whether you can trust them or not. It surely saves time for both sides.
When there is the chance of meeting a client in person, the whole project benefits from it:
We can receive a more detailed brief, including information that would have been too complicated to exchange over the phone;
We can meet only once or twice, instead of calling each other dozens of times a day. Did you know that phone calls take up to 35% of our time at work?
We can do one or more brainstorming meetings together, getting ideas both from a technical approach and a professional one;
We can have recap meetings and discuss how the project is going and what will be the next steps. This is ideal when there is an ongoing professional relationship;
A phone call can be postponed, making the deadline of the project shift later and later. A meeting can be postponed as well, but it does not happen so often, does it?
We are confident that having the chance of meeting face-to-face will make our professional relationship stronger. Also, it means you can visit us at our headquarters, and we are pretty sure you will love it: we are a web design agency in Birmingham with an office in front of the canals!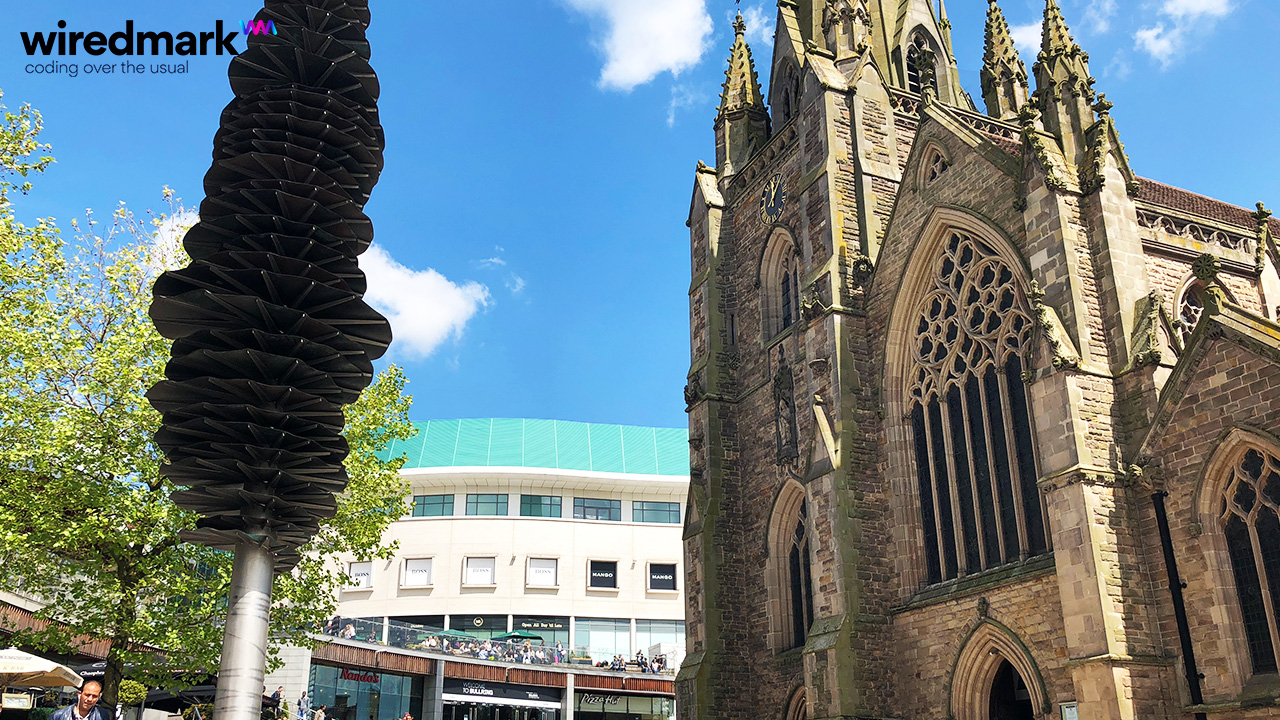 All in all, why go local?
If you have a local business, rest assured that any web design agency in Birmingham will strive to achieve the maximum benefits from being able to meet time to time. Furthermore, they will be well aware of how companies deal with their presence online in the city, which means they could be the right choice to help you making the difference and getting a concrete advantage on your competitors.
We have been helping local businesses in Birmingham for quite a long time now, so if you need help with your online presence in the local area, feel free to get in touch with us anytime.